Tree of Life Congregation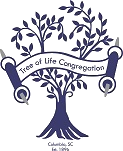 6719 N Trenholm Road
Columbia, SC 29206
Phone: (803) 787-2182
Fax: (803) 787-0309
Hours of Operation
Mon - Thurs 9:00 AM - 5:00 PM
Fri 9:00 AM - 4:00 PM
Join us as we celebrate the festival of Sukkot!
Join us as we celebrate
the festival of Sukkot!
Friday, September 29th | 6:00 p.m.
Enjoy a potluck dinner in the sukkah. Please bring a main dish or a side/salad to share.
We will have dessert at the oneg after services.
Paper goods, tableware and
beverages provided.
Shabbat and Festival Service
7:00 p.m.
Share our joy as we shake the
lulav and etrog!
Shir Ami Song of our People in Concert Saturday, September 30, 2023 7:30 PM
TOL TRIP TO ISRAEL
Join fellow congregants on a trip to Israel led by Rabbi Erik Uriarte.
April 6-17,2024
Welcome to the Tree of Life Congregation
Welcome to the Tree of Life Congregation in Columbia, South Carolina. The Tree of Life Congregation (TOL) was founded in 1896, and today is a vibrant Reform Jewish synagogue. Our 160 member-families gather from throughout greater Columbia and the Midlands of SC to celebrate, pray and study. The Tree of Life is our Beit T'filah – House of Prayer, Beit Midrash – House of Study, and Beit K'nesset – House of Assembly. We are very proud of our history, and we look forward to an even brighter future.
Sun, September 24 2023
9 Tishrei 5784
Shabbat Service Live Stream Info
All of our services are live streamed and are available via StreamSpot or for a more interactive viewing experience you can participate via Facebook Live to like, comment, and share.
To follow along with our songs and prayers at home you can access the prayer book we use (Mishkan T'filah for Shabbat) here.
Schedule An Appointment With Rabbi Uriarte
To schedule a meeting or call with Rabbi Uriarte or to reach him in case of a pastoral emergency use the contact information below.
Email: rabbiuriarte@tolsc.org
Phone: 803-787-2182 (option 3)
Emergency Phone: 803-787-2182 (option 4)
Sun, September 24 2023 9 Tishrei 5784