Tree of Life Congregation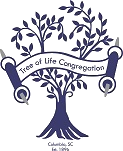 6719 N Trenholm Road
Columbia, SC 29206
Phone: (803) 787-2182
Hours of Operation:
Tues-Thurs 9:00AM-5:00PM
Fri 9:00AM-4:00PM
Shalom!
Welcome to the Tree of Life Congregation in Columbia, South Carolina. The Tree of Life Congregation (TOL) was founded in 1896, and today is a vibrant Reform Jewish synagogue. Our 200 member-families gather from throughout greater Columbia and the Midlands of SC to come together as a holy community. The Tree of Life is our Beit T'filah – House of Prayer, Beit Midrash – House of Study, and Beit K'nesset – House of Assembly. We are very proud of our history, and we look forward to an even brighter future.
Please feel free to join us at Temple for services or events. We look forward to welcoming you. Contact the Tree of Life Congregation office for more information or to answer any questions.
The Tree of Life Congregation is a proud member of the Union for Reform Judaism.
TOL Coffeehouse Presents
John McCutcheon, one of our most respected and loved folksingers, is a master of a dozen different traditional instruments, most notably the rare and beautiful hammer dulcimer. His songwriting has been hailed by critics and singers around the globe. His thirty recordings have garnered every imaginable honor including seven Grammy nominations.
Get your tickets early for this one!
Doors open at 6:30, show starts at 7:30. Food available for purchase from Groucho's. Tickets are $20 in advance, $23 at the door. Reserve your tickets through comments on the TOL Coffeehouse Facebook page, or call the TOL Concert Hotline, (803) 200-2824.
Fri, October 19 2018
10 Cheshvan 5779
Whether you need to reach the Rabbi for an emergency or just want to talk...
Rabbi Eric is here for you!
Please contact:
E-mail: rabbiericmollo@tolsc.org
Phone: (803) 787-2182 (option 4)
OFFICE HOURS
Monday - OUT
Tuesday-Thursday - 10:00AM-6:00PM
Friday - 10:00AM-4:00PM
(Rabbi Eric may have scheduled appointments during office hours and/or may also be out in our community. If so, please leave a message with our temple Administrator)
Fri, October 19 2018 10 Cheshvan 5779