Tree of Life Congregation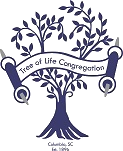 6719 N Trenholm Road
Columbia, SC 29206
Phone: (803) 787-2182
Fax: (803) 787-0309
Hours of Operation:
Mon CLOSED
Tues-Thurs 9:00 AM - 5:00 PM
Fri 9:00 AM - 4:00 PM
Shalom!
Welcome to the Tree of Life Congregation in Columbia, South Carolina. The Tree of Life Congregation (TOL) was founded in 1896, and today is a vibrant Reform Jewish synagogue. Our 160 member-families gather from throughout greater Columbia and the Midlands of SC to celebrate, pray and study. The Tree of Life is our Beit T'filah – House of Prayer, Beit Midrash – House of Study, and Beit K'nesset – House of Assembly. We are very proud of our history, and we look forward to an even brighter future.
Please feel free to join us at Temple for services or events. We look forward to welcoming you. Pleae note that Covid safety protocols are in effect and that masks are required in our building. Contact the Tree of Life Congregation office for more information or to answer any questions.
The Tree of Life Congregation is a proud member of the
Union for Reform Judaism.
Torah Study with Rabbi Dr. Tamara EskenaziDecember 11 at 12 PM (via Zoom)
Join Reform congregations from around the country to learn with acclaimed Bible scholar and HUC professor, Rabbi Dr. Tamara Eskenazi.
Events info page: https://orami.org/RSVP
Registration: https://congregationorami.shulcloud.com/event/bible-as-a-resource-rabbi-dr-eskanazi-december-2021
Shabbat Evening Services
7:30 PM SHABBAT EVENING SERVICE
For everyone's safety in the sanctuary, the following policies are in place:
– Masks are mandatory for all attendees (including children ages 3 – 11)
– Sit in designated areas and please be mindful that some congregants may want to remain socially distanced
Anyone experiencing possible symptoms of Covid (fever, coughing, etc.) may not enter the building.

We appreciate that not everyone is comfortable or able to return to in-person worship yet. Therefore we will continue to make our Shabbat services in the sanctuary available for people to enjoy from their homes via online live streaming. Our weekly emails will provide complete information on how to access TOL services remotely.

In the Sanctuary and via Live Stream
Friday, December 3, 10, 17

Virtual Minyan via Zoom
Friday, December 24

Shabbat at Home
Friday, December 31
Wed, December 1 2021
27 Kislev 5782
Shabbat Evening Service Livestream 7:30 PM
Watch the livestream here
On Facebook LIVE
Our livestream feed is also available via the Tree of Life Facebook page. Join this interactive experience to LIKE and comment.
You can access Mishkan Tefilah, our prayer book here (first book, Mishkan T'Filah for Shabbat). You can download the Kindle Edition here.
Read our Shabbat Bulletin
Upcoming Events
Upcoming this week in
December
Sat
4
Hanukkah
Parashat Mikeitz
To schedule an appointment with Rabbi Meyer or reach her in an emergency
E-mail rabbimeyer@tolsc.org
Phone (803) 787-2182 (option 4)
Emergency (803) 787-2182 (option 5)
Wed, December 1 2021 27 Kislev 5782