Tree of Life Congregation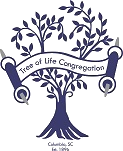 6719 N Trenholm Road
Columbia, SC 29206
Phone: (803) 787-2182
Fax: (803) 787-0309
Hours of Operation:
Mon CLOSED
Tues-Thurs 9:00AM-5:00PM
Fri 9:00AM-4:00PM
Shalom!
Welcome to the Tree of Life Congregation in Columbia, South Carolina. The Tree of Life Congregation (TOL) was founded in 1896, and today is a vibrant Reform Jewish synagogue. Our 200 member-families gather from throughout greater Columbia and the Midlands of SC to come together as a holy community. The Tree of Life is our Beit T'filah – House of Prayer, Beit Midrash – House of Study, and Beit K'nesset – House of Assembly. We are very proud of our history, and we look forward to an even brighter future.
Please feel free to join us at Temple for services or events. We look forward to welcoming you. Contact the Tree of Life Congregation office for more information or to answer any questions.
The Tree of Life Congregation is a proud member of the
Union for Reform Judaism.
Mon, February 17 2020
22 Sh'vat 5780
Upcoming Events
Upcoming this week in
February
Sat
22
Parashat Mishpatim
Whether you need to reach the Rabbi for an emergency or just want to talk...
Rabbi Meyer is here for you!
Please contact:
E-mail:
Phone: (803) 787-2182 (option 4)
Rabbi Meyer may have scheduled appointments during office hours and/or may be out in our community. It is best to schedule an appointment ahead of time via email or phone
Mon, February 17 2020 22 Sh'vat 5780