Tree of Life Congregation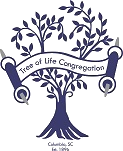 6719 N Trenholm Road
Columbia, SC 29206
Phone: (803) 787-2182
Fax: (803) 787-0309
Hours of Operation:
Mon CLOSED
Tues-Thurs 9:00 AM - 5:00 PM
Fri 9:00 AM - 4:00 PM
Our office is currently closed to the public to safeguard the health and wellbeing of our staff. Please email or call and leave a message.
Membership
Physically separate. Always together.
Whether it is our weekly virtual minyan, life cycle events, pastoral counseling, religious education, or our caring community, we are here to respond to your needs with compassion, creativity and spiritual guidance.
For our Tree of Life community to continue to grow and evolve and fulfill our mission, the congregation depends first and foremost upon you, our members, and your annual pledges. We count on your commitment. Click here to download a commitment form or submit your pledge online. Please renew by June 15, 2020. Your prompt payment and donation will allow us to move confidently into the year ahead with the resources we need to meet this moment.
News and Announcements
While our doors are closed to keep our staff and congregants safe, we continue to be open for business. These are challenging times for all of us, but we will continue to adapt. Please stay touch with your TOL friends and family. We enjoy seeing your beautiful faces on Zoom!
Out of an abundance of caution and based on the current environment, the ice cream social is being postponed. As soon as it is safe to do so, we will reschedule. Make sure to check your e-mails and Temple website for information about upcoming virtual programs. The Moving Forward Task force project teams are already implementing plans for building preparation to allow in-person gatherings and the live streaming of services.

We look forward to seeing you when conditions allow us to be together.
Shalom!
Welcome to the Tree of Life Congregation in Columbia, South Carolina. The Tree of Life Congregation (TOL) was founded in 1896, and today is a vibrant Reform Jewish synagogue. Our 150 member-families gather from throughout greater Columbia and the Midlands of SC to come together as a holy community. The Tree of Life is our Beit T'filah – House of Prayer, Beit Midrash – House of Study, and Beit K'nesset – House of Assembly. We are very proud of our history, and we look forward to an even brighter future.
Please feel free to join us at Temple for services or events. We look forward to welcoming you. Contact the Tree of Life Congregation office for more information or to answer any questions.
The Tree of Life Congregation is a proud member of the
Union for Reform Judaism.
Wed, July 8 2020
16 Tammuz 5780
Upcoming Events
Upcoming this week in
July
To schedule an appointment with Rabbi Meyer or reach her in an emergency
E-mail rabbimeyer@tolsc.org
Phone (803) 787-2182 (option 4)
Emergency (803) 787-2182 (option 5)
During the COVID-19 crisis, all appointments will be via phone or video conference until further notice.
Wed, July 8 2020 16 Tammuz 5780